En ambas marganes de la desembocadura del rió de Barcelona en una superficie que abarca varias hectáreas de terreno que ha sido especialmente tratado para que pueda soportar una urbanizacion ligera los estudios de arquitectura Toni Clariana y Magma Design, han distribuido amarradas al muelle casas modulares prefabricadas.
La idea era diseñar un tipo de vivienda que por sus características y las calidades de los materiales con los que estaba construido se adaptaran a las exigencias de un perfil de comprador preferiblemente joven, cosmopolita pero con sensibilidad medio ambiental, con unos ingresos medios y con ganas de vivir experiencias comunitarias.
Las viviendas modulares cuentan con una superficie habitable de 45 metros cuadrados que se distribuyen en un espacio que cuenta con tabiques modulares, para que el residente racionalice el espacio según sus necesidades, siendo el baño y la cocina fijos, además cuentan con una cubierta exterior donde poder disfrutar de unas vistas panorámicas del entorno privilegiado donde están ubicadas.
Las viviendas son autónomas energeticamente y sostenibles debido a que se abastecen mediante una instalación fotovoltaica que suministra al conjunto de unidades en función de la demanda que solicitan, la primera promoción ya a la venta se puede adquirir por un precio que ronda los 80.000 Euros.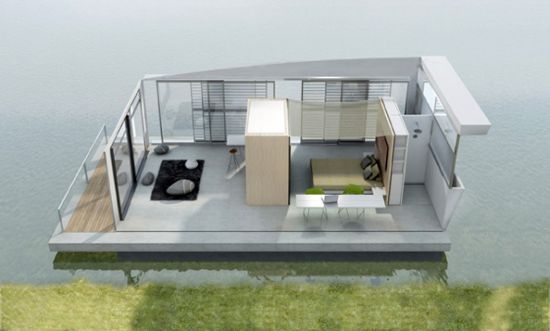 You have read this article arquitectura / diseño / energías renovables / lugares / sostenible / urbanismo with the title Toni Clariana y Magma Design/Lofts flotantes en las margenes del rió de Barcelona. You can bookmark this page URL http://arisumisa.blogspot.com.es/2010/12/toni-clariana-y-magma-designlofts.html. Thanks!