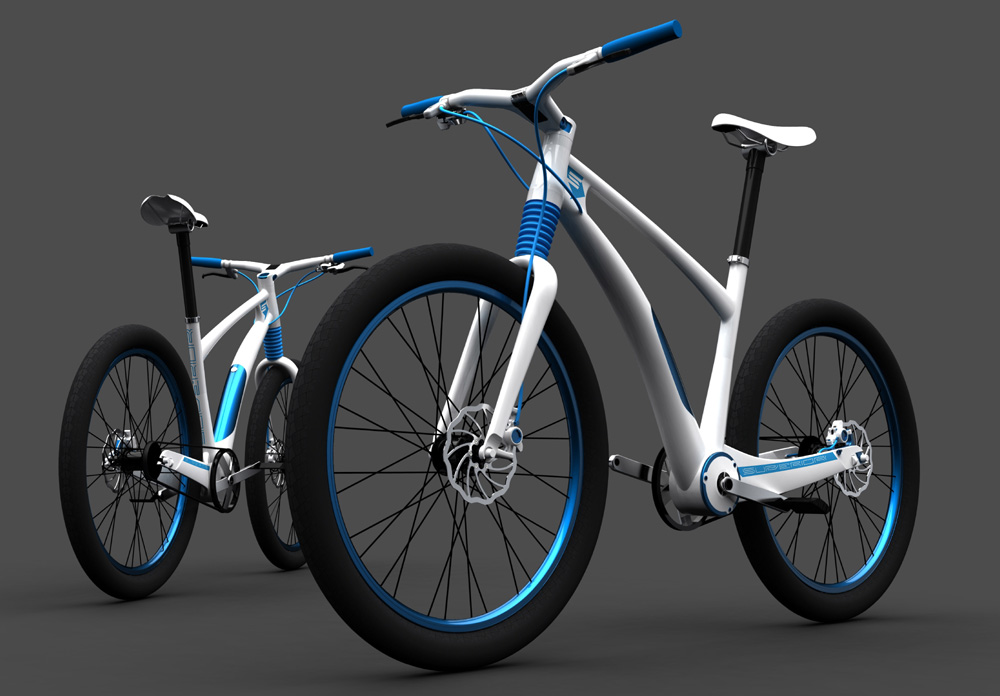 Estudiante de Diseño Industrial
Vojtěch Sojka,
presento recientemente los resultados "ciudad de bicicletas eléctricas" como su proyecto de tesis en la
Universidad de Tecnología de Brno (República Checa)
. El proyecto de la escuela se ha desarrollado como un concepto para la empresa checa de bicicletas
Superior
, que ayudó a Sojka con la producción del prototipo. El objetivo con el diseño era crear una e-bike ligera, deportiva que atrajera a los jóvenes en el medio urbano. Su diseño cuenta con un chasis de aluminio hidroformado con el motor colocado en la caja de pedalier, para faciltar la mejor distribución del peso del motor situado en el eje trasero. La batería también se ha situado en el tubo del asiento, y una correa de transmisión de carbono con un centro de Shimano Alfine completa la transmisión.
Uno de las características mas relevantes de su ergonómico diseño hay que buscarla en las ruedas, equipadas con la variedad Schwalbe Super Moto 2,35 neumáticos que amortiguan en circularon proporcionando estabilidad. El cuadro fabricado en una sola pieza y el montaje del manillar todo hecho con fibra de carbono, sigue la forma del tubo de dirección para unificar el diseño general. Tornillos exteriores se eliminan para imprimir una estética limpia. Sojka mencionó que el equipo integrado para el control de la potencia del motor, control de velocidad, etc, podría ser reemplazado por un teléfono inteligente montaje conectado al manillar.
You have read this article energías renovables / movilidad with the title Electric Bicycle with Hydro-formed. You can bookmark this page URL http://arisumisa.blogspot.com.es/2011/07/electric-bicycle-with-hydro-formed.html. Thanks!