Flowlight es una solución energética en el ámbito urbano, a partir de la utilizacion de recursos sostenibles. El dispositivo ha sido implementado a lo largo de los muelles del río Suir a su paso por la ciudad de Waterford, al sureste de Irlanda. La capa exterior del producto está fabricado con un material de fibra de carbono, la farola es un diseño inteligente e innovador. Las palas están protegidos por una Unidad Sub-flotación que también protege las cuchillas de los golpes del lecho del río y se dañe.
Diseñado por el ingeniero
Shane Molloy,
este nuevo mobiliario lumínico presenta una alta eficiencia energética. El concepto hace que el uso del brazo de extensión adapte la posición de la turbina según el nivel de caudal que presente el rió. Esto significa que el dispositivo puede efectivamente generar energía, ya sea en marea alta o marea baja, al mismo tiempo evitando el riesgo de daño o la necesidad de ajuste manual constante.
En el caso de la escasez de energía, las luces tienen un sensor de la batería y la luz del día que les permiten activar o desactivar automáticamente en función de las condiciones de luz. Aprovechando la corriente del rió, FLOWLIGHT genera energía mecánica de las láminas de agua de la turbina y de esto, el generador crea energía eléctrica. Esta energía se almacena en la unidad de la batería del la farola, que puede ser utilizado cuando sea necesario para iluminar del entorno urbano, para este propósito esta equipada con iluminación LED. Una vez que los niveles de luz del día por debajo de un determinado nivel, el sensor de luz regula automaticamente la amplitud lumínica que emite el foco. El haz de luz puede iluminar un área de 15 hasta metros de radio.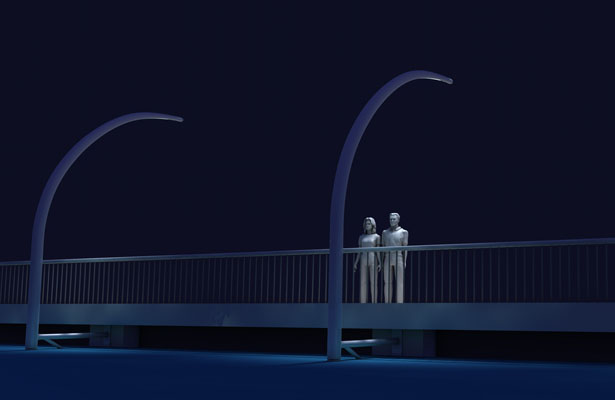 You have read this article design / diseño / en la calle / energías renovables / renewable energies / urbanismo with the title Shane Molloy/FLOWLIGHT farola que aprovecha el caudal del rio para producir energia verde. You can bookmark this page URL http://arisumisa.blogspot.com.es/2011/07/shane-molloyflowlight-farola-que.html. Thanks!