Desde el 23 de Septiembre y hasta finales de Octubre
Art & About Sydney,
las calles y galerías de arte de
Sidney
en Australia se convierten en un gran museo al aire libre, donde el espacio publico y el ciudadano son los grandes protagonistas de un evento cultural que en cada nueva edición realiza propuestas mas diversas y arriesgadas. Una de las primeras intervenciones que esta llamando poderosamente la atención es la instalación del artista afincado en New York
Isidro Blasco
, titulada
Deconstructing Ways
, se trata de una ilusión óptica creada con un conjunto de lienzos colocados en un bastidor a escala real respecto a la calle.
Por cada lienzo un detalle de la calle donde esta expuesto. Cada fragmento de esta instalación esta orientada hacia un punto en concreto, creando la sensacion de desconstruccion de la realidad, el observado experimenta una sensacion similar a la que experimenta cuando se mira a un espejo que distorsiona la imagen. La perspectiva aguda tiene un efecto similar a un vórtice . Aunque no se puede caminar a través de él, la mente se pasa por otra forma de mirar la realidad.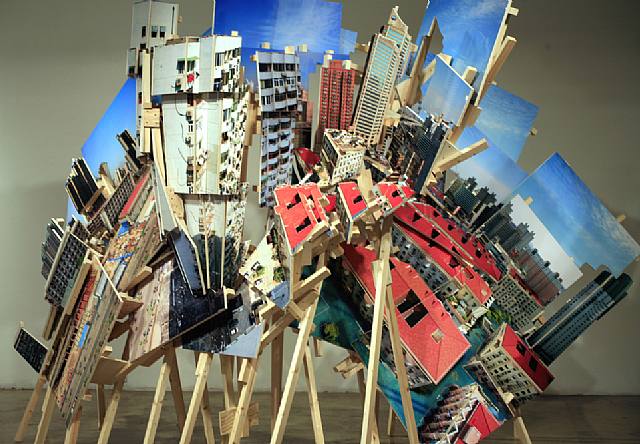 You have read this article art / arte / en la calle / graffiti / street art with the title Isidro Blasco/Deconstructing Ways. You can bookmark this page URL http://arisumisa.blogspot.com.es/2011/09/isidro-blascodeconstructing-ways.html. Thanks!