Polargraph / slow drawing show preview
from
Sandy Noble
on
Vimeo
.
La propuesta del artista y
Hacker Sandy
Noble representa un punto equidistante que tiene como referencias la artesanía y la mas avanzada tecnología. Quizás el procedimiento y los instrumentos que emplea para realizar lo que el denomina como
Polographs
parezcan un poco prosaicos, el resultado es una obra artística confeccionada mediante el trazado realizado por un robot que lee un patrón previo.
Como una arana que teje su tela, la maquina lee las coordenadas polares que el robot reproduce siguiendo una geométria desordenada y orgánica al mismo tiempo. utiliza los dos bordes de la tela como "polos", con "pixeles" que irradian en un patrón de superposición los arcos. "El ángulo de las líneas y el hecho de que todo hecho de sutiles curvas da la impresión de que es dibujado a mano alzada. Las líneas se trazan de forma precisa y uniforme, y siempre en esta curva sutil. Cuando hay un poco de movimiento en la punta del lápiz también, entonces aparecen nuevos efectos, la calidad del modelo de incubación se degrada, por lo general de una manera atractiva y evoca la costura o el bordado.
PolarGraph Plotter
from
Nicholas O'Leary
on
Vimeo
.
La máquina utiliza una pluma y la cinta como sus herramientas de dibujo. Impulsado por un microcontrolador Arduino y un motor Adafruit. Todo el sistema es bastante tecnológicamente agnóstico. La aplicación se maneja desde el ordenador. Descifra un mapa de bits y crea una mapa del archivo mediante un sistema de coordenadas polares, graba la posición de píxeles, el tamaño y el brillo. las solicitudes de hardware transcriben un pixel cada vez, y lo hace en la página utilizando su propio trazo y los algoritmos de movimiento.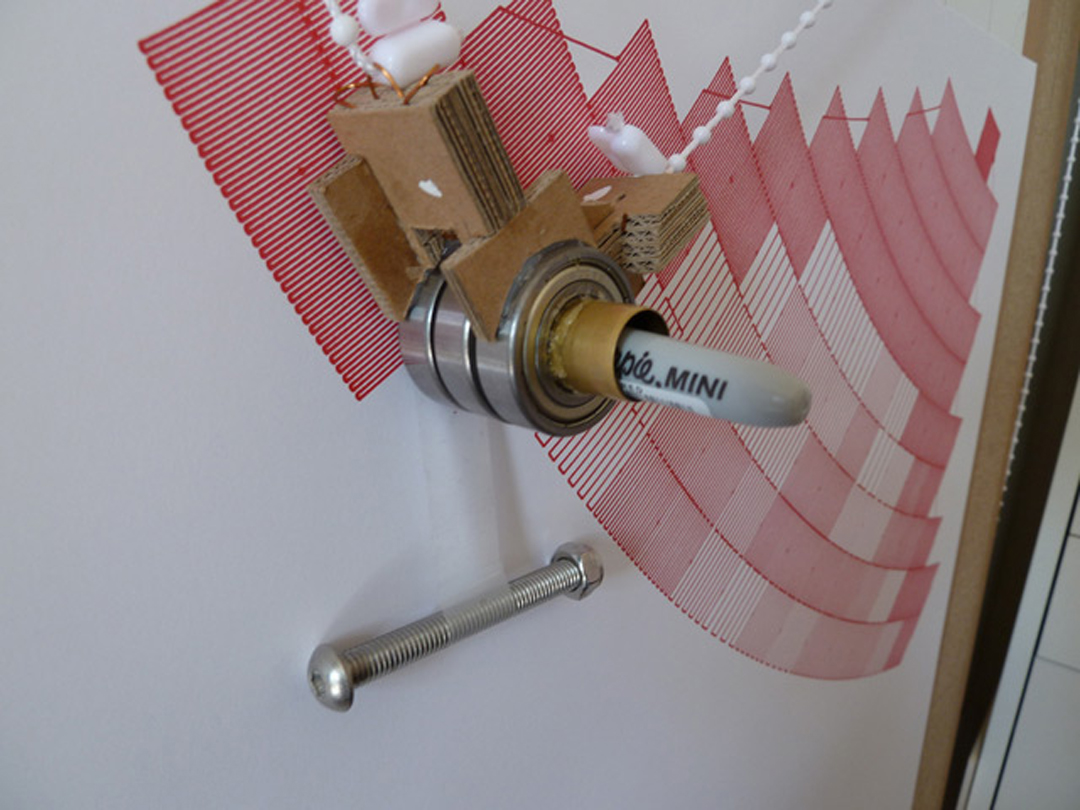 You have read this article art / arte / audiovisual / installation performance / tecnología with the title Sandy Noble/Polargraphs. You can bookmark this page URL http://arisumisa.blogspot.com.es/2011/09/sandy-noblepolargraphs.html. Thanks!