Shayna Leib
es una artista que su materia prima de trabajo es el vidrio, labor que realiza de forma tradicional, con sus el aire que exhalan sus pulmones, la ayuda del fuelle y el vidrio candente con el moldea tapices de estalactitas de cristal superfino, que se mecen al viento como la hierba en un día de viento. Fragmentos de paisaje donde elemento como el fuego, la fuerza del viento y la fluidez del agua crean un entorno donde la luz y el color son los protagonistas
.
Dos de los elementos más poderosos de nuestro planeta son casi imperceptibles para el ojo humano, sin embargo, son innatamente consciente de su presencia, su capacidad para calmar y para destruir, y su capacidad para moldear la forma de lo que toca. Viento y el agua no poseen color propio, son claras, hasta el punto de la invisibilidad, y sin embargo se mueven por el espacio. No podemos ver su forma misma, pero se puede detectar la huella a través de las formas que sobre los objetos que afectan. Su carácter es contradictorio y voluble, que abarca la fragilidad y la violencia, la placidez y la turbulencia.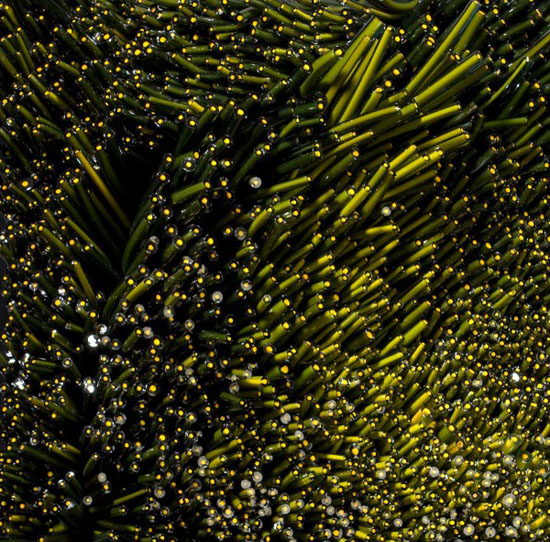 Ya de niña Shayna vio como se trabajaba con el vidrio, terminados sus estudios en el instituto se matriculo como estudiante en la California Polytechnic State University en San Luis Obispo, California, donde obtuvo una licenciatura en filosofía. Completo su formacion con un doctorado en filosofía en SUNY Binghamton, donde eligió especializarse en vidrio a nivel de postgrado y pasando a Madison, Wisconsin, donde terminé mis estudios MFA en mayo de 2003. Su trabajo en la Universidad de Wisconsin-Madison ha incluido la exploración del vidrio como objeto escultórico.
You have read this article art / arte with the title Shayna Leib/Sculptural Glass Art. You can bookmark this page URL http://arisumisa.blogspot.com.es/2011/09/shayna-leibsculptural-glass-art.html. Thanks!