For Closure (Outdoors, the Bronx), es la segunda instalación temporal de una serie de intervenciones, que tienen como escenario el distrito del Bronx en New York, y que tiene como objeto llamar la atención sobre la problematica del acceso a la vivienda para determinados colectivos desfavorecidos. Realizada por la artista Gabriela Salazar, la escultura es un proyecto que ha sido posible gracias al programa de arte urbano desarrollado por el Bronx River Art Center (BRAC), en colaboración con el departamento de transporte urbano (NYC DOT) de la ciudad .
La escultura de forma piramidal, se compone de triángulos realizados con puertas recicladas, sus cuatro alturas vincula la simbología representada por un castillo de naipes y su fragilidad, con la predisposición en tiempo de crisis a perder o a no poder acceder a una vivienda digna por parte de muchas familias.
Gabriela Salazar (Nueva York, 1981) es un artista y escritora que vive y trabaja entre Brooklyn y el Bronx, sus obras son un compendio de disciplinas como la arquitectura, la escritura, la escultura y el dibujo, con las que trata de mostrar las relaciones y asociaciones que establecemos los ciudadano con el paisaje urbano y como nos afecta.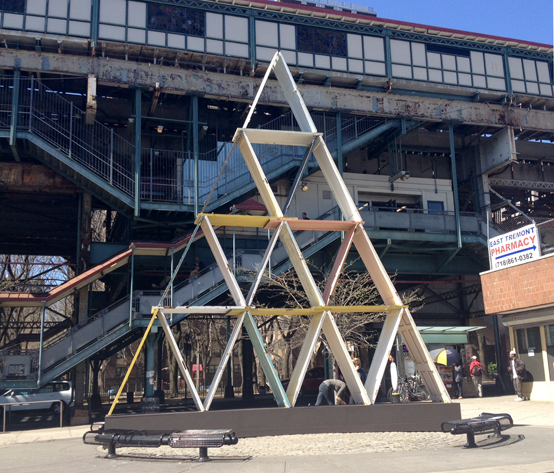 You have read this article acción social / art / arte / installation performance / new york / street art with the title Gabriela Salazar - For Closure (Outdoors, the Bronx). You can bookmark this page URL http://arisumisa.blogspot.com.es/2012/06/gabriela-salazar-for-closure-outdoors.html. Thanks!