La ultima edición de Eurobike en Alemania, pese a la situación anodina de los fabricantes de bicicletas, se aumentado el numero de expositores y visitantes, aunque según sus organizadores donde se ha observado un mayor incremento ha sido en la presentación de prototipos por parte de los estudios de diseño, que se acercan a los stand para mostrar sus ultimas ideas en cuanto al diseño de bicicletas y e-bikes, un apartado el de las bicicletas eléctricas, que como ya es costumbre en las ultimas convocatorias ha concitando buena parte de la atención del publico y los medios acreditados.
El modelo Cannondale Concept Bike,
presentado por el estudio Priority Designs destaco por su impactante diseño, y por integrar un innovador sistema modulador que sustituye a los engranajes de la cadena y los piñones de la rueda de la rueda trasera. Regulable de forma dinámica, la conducción de la bici se basa en el concepto CERV, un manillar flexible se mueve de forma dinámica tanto de proa a popa como en vertical de arriba hacia abajo.
La genialidad radica en lograr que el sillin no se desplace en relación al manillar. Este sistema pone al ciclista en una posición óptima según las características d el terreno. El manillar se inclina de forma vertical hacia adelante y hacia abajo cuando el terreno es descendente. Al subir, se inclina hacia arriba y hacia atrás, adoptando una posición más equilibrada del manillar.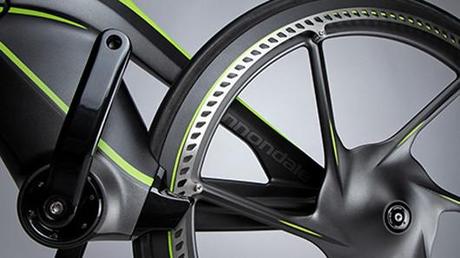 You have read this article bicicleta / bycicle / design / diseño / movilidad / tecnología with the title Cannondale Concept Bike, una bici sin cadenas. You can bookmark this page URL http://arisumisa.blogspot.com.es/2012/09/cannondale-concept-bike-una-bici-sin.html. Thanks!