A vista de pájaro, a una altura prudencial, el trazado serpenteante que se abre entre las montañas de Haiku Stairs, podría confundirse con la milenaria muralla china. Situada en la isla de Oahu perteneciente al archipiélago de Hawaii, la sinuosa escalera que rodea la ciudad cuenta con 3.921 escalones, también conocida como Stairway to heaven (Escalera al cielo), su sinuso trayecto parcialmente invadido por la vegetacion, se ha convertido en un reclamo para miles de turistas, a pesar de que esta prohibido, el acceso a sus instalaciones desde 1.987, por lo que las instalaciones están muy deterioradas, siendo aconsejable tomar medidas de precaución en su ascenso.
Proyectada en 1943, originalmente fue construida utilizando escalones de madera, los cuales han desaparecido practicamente en todos los tramos, siendo sustituidos, por peldaños de acero. Su construcción fue realizada por trabajadores de la isla, para llegar a la cima donde desde donde se extiende el valle. Desde donde tender una red de cables que conectaran las localidades de Wahiawa y Haiku Valley con las Estaciones de Radio Naval del ejercito americano.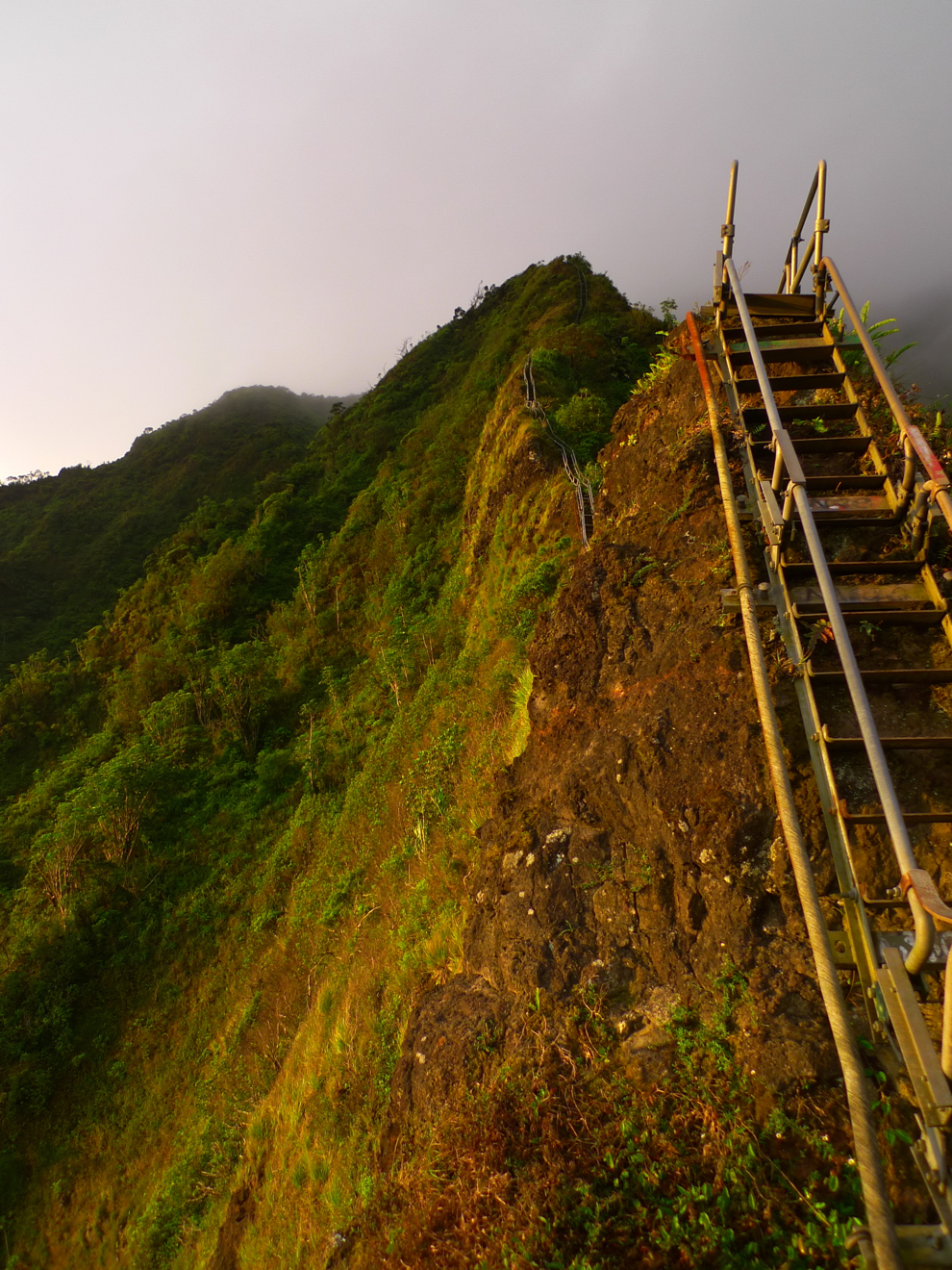 En la década de 1950, la Marina de los EE.UU. tomó el mando de la colina, utilizándola para enviar señales a los submarinos ubicados en lugares tan lejanos como Tokio. A finales de 1960, la guardia costera de los EE.UU. se hizo cargo utilizando el edificio en la parte superior como una estación, donde se instalo el sistema de navegación Omega. En 1980, una organización no gubernamental participó en la dotación de la estación, y la ciudad y condado de Honolulu se hizo cargo.

El recorrido de Haiku Stairs es una ruta de senderismo, en la que se invierte aproximadamente dos horas en llegar a la cumbre. Se recomienda llevar guantes para el ascenso (para evitar las ampollas). Unas botas de montaña o zapatillas de cross-trainer. La elevación máxima de la ruta es de 2.800 pies (850 m), punto donde se encontraba una torre de radio.
You have read this article land art / lugares / movilidad / territorio nomada / urban sport / viajes with the title Haiku Stairs. Escalera al Cielo. You can bookmark this page URL http://arisumisa.blogspot.com.es/2012/09/haiku-stairs-escalera-al-cielo.html. Thanks!