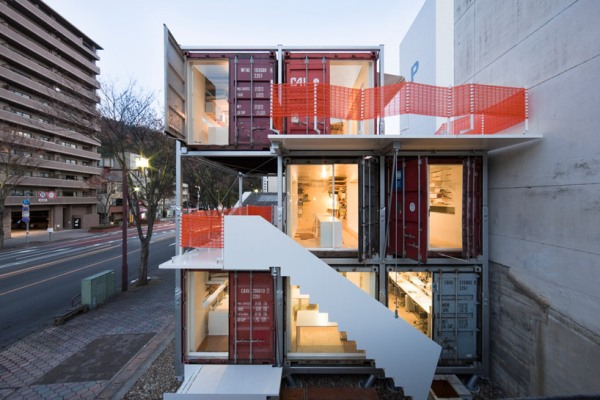 Colindante al edificio que albergaba las oficinas que albergaba la o sede de la compañía Sugoroku a punto de ser demolido. Un pequeño solar a ras de la acera se convierte en el terreno ideal para trasladar eventualmente la actividad de la empresa.
Situada en una vía del área de oficinas de la localidad japonesa de Gifu, el estudio de arquitectura Daiken-Met Architects tras limpiar la parcela de maleza y malas hierbas. Traslada siete contenedores de carga marítimo, apilandolos en filas de tres alturas.
La entrada situada en uno de los laterales sirve de hall donde se recibe a los clientes, además de contar con una cafetería y una sala de reuniones. Para acceder a las plantas superiores una escalera exterior comunica el conjunto de la estructura y las áreas de trabajo que lo componen.
Las oficinas se abren a gran escala a la calle a través de terrazas en las plantas superiores, ofreciendo una mayor interacción entre la casa y los residentes de la ciudad. Las zonas exteriores están conectados a través de un plug-in interior fabricado en madera y aluminio que sugieren una mezcla que crea una atmósfera cálida en la zona de trabajo.
Ejecutada en 2.011 este proyecto representa una solución transitoria eficaz, en la que debido al volumen y comoposición de materiales que se utiliza en su ejecución supone un mínimo impacto sobre el terreno que se actúa y el paisaje urbano que se sitúa.

You have read this article arquitectura / contenedores / design / diseño / japon / oficina / pop-up / reciclaje / sostenible / temporal with the title Daiken-Met Architects - Sugoroku Office. You can bookmark this page URL http://arisumisa.blogspot.com.es/2013/10/daiken-met-architects-sugoroku-office.html. Thanks!